Many of our patients who are experiencing pain really look forward to their time in the pool. At Complete Care at Holiday Park, we have been skilled in aquatic physical therapy for over a decade and a half. Our therapists are some of the most knowledgeable aquatic therapists in the region. We have found that we can achieve great success with all of our patients through our aquatic programs.
All of the Complete Care therapists are trained on the benefits of using Aquatic Therapy. It has been especially helpful when dealing with many issues, including:
Arthritis

Fibromyalgia

Joint replacement

Pre or post-surgery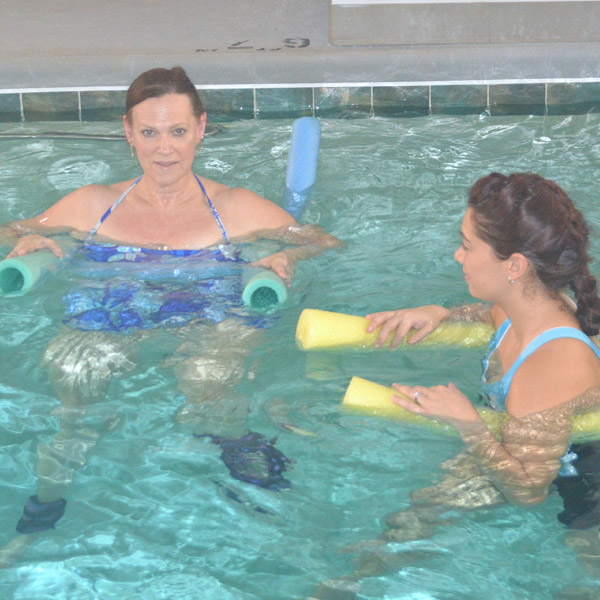 Our aquatic facilities allow us to treat any diagnosis, from head to toe. When we opened each of our clinics, we made sure that we obtained the most comprehensive aquatic facilities in the area.
Both of our clinics are the only local aquatic facilities to offer all of these benefits:
A shallow end

A 5 ½ to 6 ft deep end to allow for full-body therapy and weight-bearing restrictions

An optimal therapeutic temperature of 92-94 degrees

Therapists instructing in the water with their patients

Pools that use a special copper ionization system to eliminate all the health concerns with chlorine systems

Complete education on your specific problem or injury

Guidance on how to continue living your life problem-free, after you have graduated our program

Very affordable maintenance and wellness plans for any patient interested in continuing to better their health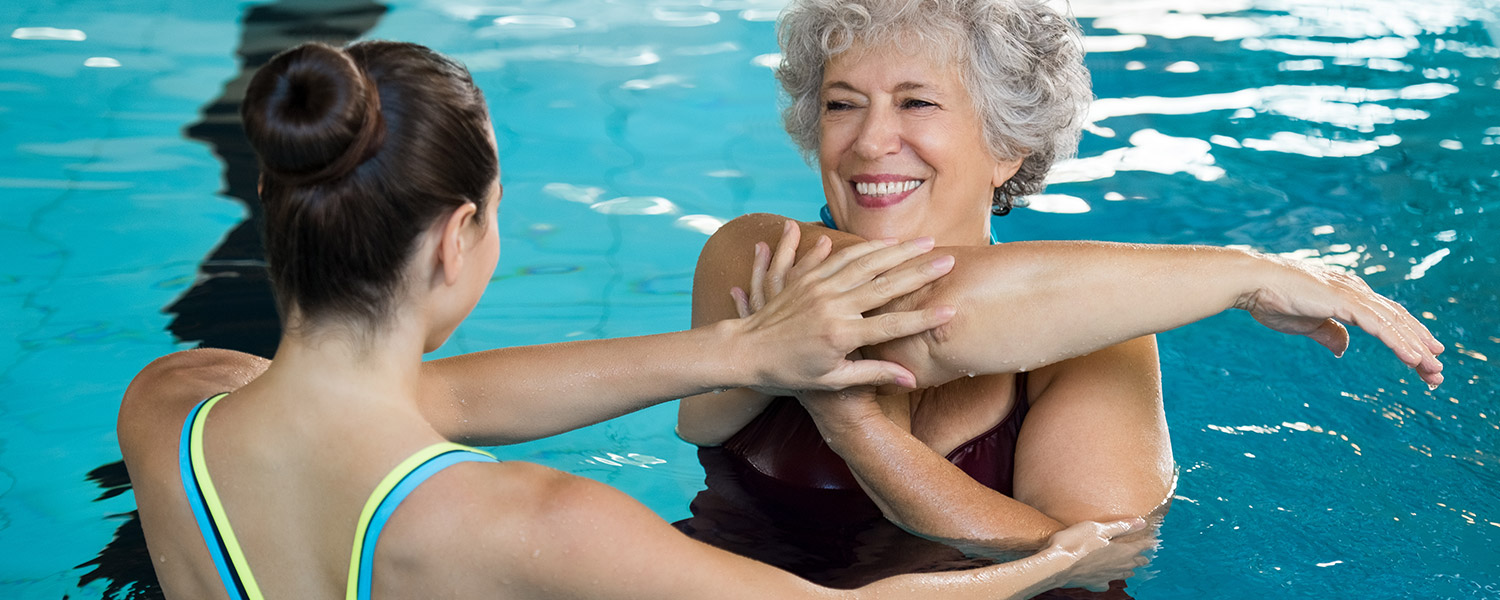 At Complete Care at Holiday Park

, we have learned over the years how to fine-tune all of our programs to meet the individual needs and goals of all our patients.
Although all our programs have base protocols, our highly trained therapists will create a unique and specific Aquatic Therapy plan just for you. We don't believe in a one plan fits all at Complete Care. We believe each individual is different, and treat you as such. This allows us to adjust the therapy as we see fit and allows the therapist more control over your recovery.
Our Aquatic Programs come with plenty of benefits.
One major benefit is the 92-94 degree temperature of our water. The warm water acts as an all-over hot pack on the body. This helps to relax the muscles and increase the range of motion for a more successful therapy session. It also helps absorb the weight of the body, essentially creating a more pain-free experience for our patients.
Complete Care's shallow to 5 ½ -6ft deep pools allow us many opportunities to specialize treatment. We can create exercises and therapies in our shallow end that can help strengthen muscles and increase your range of motion. Our deep end allows us to perform an aquatic decompression therapy that is impossible to recreate in any other local pool. The deepwater also allows us unique capabilities in treating full-body diagnoses such as arthritis or fibromyalgia.
Our Aquatic Therapy is also unique in that our therapists are in the water with the patients. This allows our therapists to be more hands-on and helps them better control accuracy and evaluation of the treatment.
Our unique Spinal Solutions Program sets us apart from all other therapy treatments. It has been well over a decade in the making and grew out of our desire to find an effective alternative that does more than merely treat the symptoms of both back pain and neck pain. Our program utilizes the TheraSource Method to treat the source of most spinal problems, helping to reduce the likelihood of recurrences in the future.
Our therapists are trained to not only help you get better but to help you understand your recovery, as well. We explain what we are doing and why at each appointment. After you have completed our program, we want you to continue to be able to do the things you enjoy. That is why we educate you on how to continue helping yourself when you get back to your everyday life.
Call now so we can create your individualized treatment plan and start getting you back to being you!
Aquatic Therapy Questions
What are the benefits of aquatic therapy?
Aquatic therapy allows patients to receive treatment that may be prohibitive on land. The water reduces gravitational pull, making exercise easier. It also allows for increased flexibility and range of motion without putting stresses on the body. The hydrostatic pressure created in the water also decreases swelling and improves circulation. All three properties combine to help create a more pain-free environment and a quicker recovery for many patients.
Who should do aquatic therapy?
Almost any patient will see benefits from aquatic therapy, including patients suffering from back pain or neck pain, pre/post-surgery or joint replacement, orthopedic issues, arthritis, fibromyalgia, gait or balance issues, or bariatric patients.
Why are your aquatic programs different from other aquatic programs?
Complete Care at Holiday Park is the only aquatic therapy clinic in the region that has warm therapeutic pools with shallow and deep ends with our therapists working with their patients in the water. Featuring the only deep-well pool in the area allows us to rehab the greatest variety of physical problems. We can perform full-body rehab and accommodate for weight-bearing restrictions to address individual patient needs. Also, included in many of our programs is the use of aquatic decompression which can only be utilized in a 5 ½-6 foot pool.
Why do you heat the pool?
We keep our pools heated to an optimal therapeutic temperature between 92-94 degrees. This helps to relax the muscles and helps increase range of motion for a more pain-free and successful therapy session.
What if I can't swim, can I still do aquatic therapy?
You don't need to know how to swim to do our aquatic therapy. At Complete Care at Holiday Park, our aquatic therapists are in the water with the patient. We work with many patients who can't swim or are fearful of water. Our therapists are trained in how to overcome these obstacles. Our pool has a shallow and a deep end allowing for more versatile therapy sessions.
What if I don't have a swimsuit?
You don't need to buy a swimsuit just to do therapy. Many of our patients wear shorts and a t-shirt in the pool.